Wedding Planning
July 10, 2017
I have recently posted a video on Youtube explaining how i am going to plan our wedding but thought it would help me out if i just wrote about it.
Believe me i'm not one for writing nor am i any good at it, but i feel this is something i shouldn't turn away from and should just give it a go.
So we have been wedding planning now for a month, we went to one venue for a visit and its just not for us. Then my nan suggested going abroad and at first we both laughed and thought yes i wish and that it would never happen to us. But why not, why cant it happen to us, why cant we have the wedding of our dreams and be somewhere hot and sunny and not have to worry about this stupid English weather where one day its hot and the next its like a hurricane!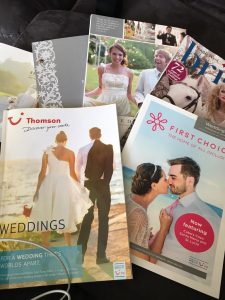 So i started to look online and to be honest at first it looked so easy like it was booking a holiday, you see the price and thats what you get. Boy was i wrong!
I went to the local travel agents and picked up their brochure for weddings and the packages whats included and again it looked so easy as if it was like looking through the Argos book and picking a new dinner set. I started to email some of the hotels i liked from the brochures to see what they included and for some photos of their previous weddings. It turned out pretty well and some of them where beautiful.
I had the next day off work so headed back to the travel agents to talk a bit more about where and when. Turns out theres no flights until 6 months before our date and the ones that are out now are once a week, which would mean our family and friends would have to stay for a whole week. Most thought nothing of it and where happy to stay the whole time and make it into their yearly holiday. But others are not so well off and for them to come we felt as though we would pay for something, be it the flights and they pay for the holiday but even so it was way too much!
We have started to narrow it down and get a speech prepared for when the flights do come out in September, so we know exactly what we want and for what price.
It has to be in Europe, max 3.5 hours plane
3 nights stay for most family members and for ones to make it a holiday 7 nights
On a beach or over looking a beach
HOT !!
All inclusive, but with an option of half board for family members who cant afford it.
SO with all this in mind we have our fingers crossed and hope were not leaving it too late!
On another side of things, i have already bought my dress!
I had no idea how easy it would be, i have been planning my dress for as long as i can remember and have always wanted a beautiful BIG FAT GYPSY wedding style dress, but with the thought of going abroad and it being hot it put me off the idea.
I went with my family and maid of honour and tried on one of the dresses that would be perfect for a beach wedding, tight fitting, Lacey, mermaid style. It looked nice and made me feel like i had curves but it just wasn't for me. I didn't feel that WOW moment. Nothing about it made me want it to be my dress, or even wear it again.
Then there was my dress, i wish i could go into more detail but it has to be a surprise for my husband to be, so get ready for the photos next year !
Lots of people have asked "how do you know that its your dress?", but its true you get this feeling, it makes you smile, it makes you feel beautiful and it makes you want to never take the dress off again and thats how i knew it was my dress !!
So this is where i am up to at the moment with wedding planning and ill keep you up to date when i know more xx